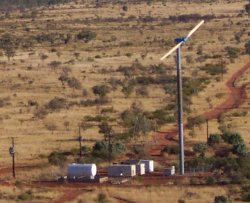 Hybrid electricity generation systems use more than one type of energy generation technology in the one power system.

These systems include but are not limited to: diesel systems that run in conjunction with solar arrays, solar systems with battery backup, wind/solar/battery hybrids, micro hydro with solar peak compensation and wind/solar/battery/diesel stand-alone power systems.

Hybrid energy systems can also provide more than just electricity. An excellent example is the wind/diesel power system at the Mawson base of the Australian Antarctic Division. The hybrid system at Mawson provides energy for the electricity, heating and water making (ice melting) services.

Where can they be used?
Hybrid power systems are often chosen where multiple energy sources are available AND a mixture of their characteristics is desirable. For example, a wind only energy system is variable and is not 100% dependable. Add a battery bank to reduce the variability and a diesel generator for those periods of insufficient wind and the hybrid system becomes much more useful. Such a system becomes economic where the reduction in diesel fuel cost (over a diesel only system) offsets the cost of installing and maintaining the wind turbine and battery bank. In some cases the cost of running the diesel engine is so high, it becomes a last-resort (backup) energy source.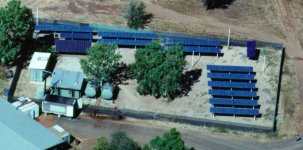 Why do we use hybrid systems?
Hybrid power systems aim to meet a certain power demand

Some technologies are complementary, making a hybridisation scheme more reliable and economically beneficial, over a single source scheme. Using multiple energy sources can also reduce the risk of complete failure although the risk of partial failure increases slightly.

Hybridising renewable energy generation with conventional generation leads to savings in fuel costs, fuel transportation costs, and maintenance costs (eg. diesel generators run less hours) and can also attract government rebates. Because renewable fuel is either free or domestically sourced, fuel price fluctuations are limited leading to a more stable and predictable operating cost for a hybridised system. The long-term cost of a renewable hybrid system is therefore predictable with a greater accuracy over systems using only fossil fuels.

The central disadvantages to a hybrid system are that the initial cost is often greater and they generally require more complicated power flow controlling hardware than a single-generator system.

Novolta has a large amount of experience with hybrid systems including sources such as solar, wind and diesel and can carry out detailed site assessments, energy audits and feasibility studies. Information on how we can help is located under the Services area of our website.